Veröffentlicht: 20. Juli 2019 – Letzte Aktualisierung: 21. September 2022
[Chiara Sulprizio's English article starts after some preliminary remarks in German.]
Preleminary Remark/Vorbemerkungen by Michael Kleu
Chiara Sulprizio hat Classics studiert und eine Doktorarbeit zum Thema "Gender, Space and Warfare in the Early Plays of Aristophanes" geschrieben. Nach Stationen an verschiedenen US-amerikanischen Universitäten lehrt sie nun an der Vanderbilt University. Ihren großartigen Blog Animated Antiquity – Cartoon Representations of Greece, Rome and Beyond kann ich allen Leserinnen und Lesern nur wärmstens empfehlen. Heute präsentiert uns Chiara Sulprizio einen spannenden Beitrag zur antiken Mythologie in Zeichentrickfilmen der 1970er Jahre.
Myth and Fantasy in 1970s Animation: Allegro Non Troppo, Metamorphoses and Fantasia (Chiara Sulprizio)
Bruno Bozzetto's Allegro Non Troppo (1976)
In 1976, Italian animation icon Bruno Bozzetto released a feature-length anthology film entitled Allegro Non Troppo. The film was a whimsical, postmodern parody of Disney's 1940 film Fantasia: it featured thematic vignettes set to pieces of classical music interspersed with funny live-action scenes focused on the orchestra and filmmaker as they produce the film. The first vignette in particular was set to Debussy's Prélude à l'après-midi d'un faune, and was inspired by the famous episode from Fantasia, which was set to Beethoven's Pastoral Symphony and featured Centaurs frolicking romantically and a festival in honor of the wine-god Bacchus. However, in Bozzetto's version, quite in contrast with the coquettish courtships of Disney's Centaur and Centaurette couples, an elderly satyr foolishly pursues nymph-like nude female figures, all in a failed effort to restore the virility and good looks of his youth. The erotic yet humorous storyline depicts the humiliation of the satyr as he grows ever smaller in size. The scene ends on a somewhat meditative note, however, as the camera zooms out and the landscape traversed by the satyr transforms into a woman's body.
Takashi's Metamorphoses (1978)
Two years later, in 1978, Japanese director Takashi (Masunaga) released his feature-length film Metamorphoses in the United States, which was produced and distributed by Sanrio Communications (of Hello Kitty fame). The film was a five-part animated anthology of mythological stories from the work of the same name by the Roman poet Ovid, including those of Actaeon, Orpheus and Eurydice, Perseus, Phaethon and one called "The House of Envy" that tells the story of Herse, Aglauros and Hermes. Each story features a recurring boy and girl character as the hero and heroine of the story. Metamorphoses was intended as a Fantasia for the rock era (the headline of the Albuquerque Journal's review of the film from June 1, 1978 was "Animated 'Metamorphoses': Pale Imitation of 'Fantasia'"). Its animation style was very reminiscent of Disney, it had no speaking characters, and instead of classical music, its scenes were set to original rock tunes commissioned for the movie by the likes of Joan Baez, Mick Jagger and the Pointer Sisters.
The film was not well-received, however, so it underwent a metamorphosis of its own: it was re-released in 1979 and retitled as Winds of Change (in Japan it was re-released under the name Hoshi no Orpheus or "Orpheus of the Stars"). The order of the stories was shuffled, narration by actor Peter Ustinov (of Spartacus and Quo Vadis fame) was added in order to make the storylines more intelligible, and a groovy disco score by Alex Costandinos replaced the rock songs. But this still wasn't enough to make the film into a success. It was pulled from theaters immediately after its re-release and this second version only appeared on VHS in the US in 1985 and again in 1992 (the Japanese version was released on DVD in Japan in 2006). Meanwhile, the original version of Metamorphoses has never been released since its premiere (you can read more about its disastrous US debut here).
Greek and Roman mythology as a creative source for artists and animators in the 1970s
Both Allegro Non Troppo and Metamorphoses/Winds of Change are fascinating films in their own right, but when considered together they bring up some broader questions I'd like to dig into further: First, what cultural trends contributed to the production of these two Fantasia-inspired films at about the same time? And why was the mythology of ancient Greece and Rome such a rich creative source for artists and animators in the 1970s? To answer these questions, I need to provide a little historical background on what was happening in the world of animation more generally in this era.
From the 1930s to the end of the "Golden Age of American Animation"
The late 1960s and early 1970s are understood as the end of what film historians term the "Golden Age of American Animation." It was during this period that "theatrical animated shorts began losing popularity to the newer medium of television animation, produced on cheaper budgets and in a more limited animation style." It was also at right about this time that a sustained engagement with themes and stories from classical mythology and, to a lesser extent, with philosophical allegory began to appear in animated productions. This was quite a novel development; prior to this, from about the mid-1930s to the early 1960s, there was not much animation being produced that engaged with the ancient world (likely due to the outbreak of World War II in 1939), and what was produced in the 1950s and 60s were mainly humorous "pseudo-historical" portrayals of the Romans – usually soldiers, gladiators and emperors – fighting, partying and going about their lives (the Asterix franchise is the best example of this phenomenon).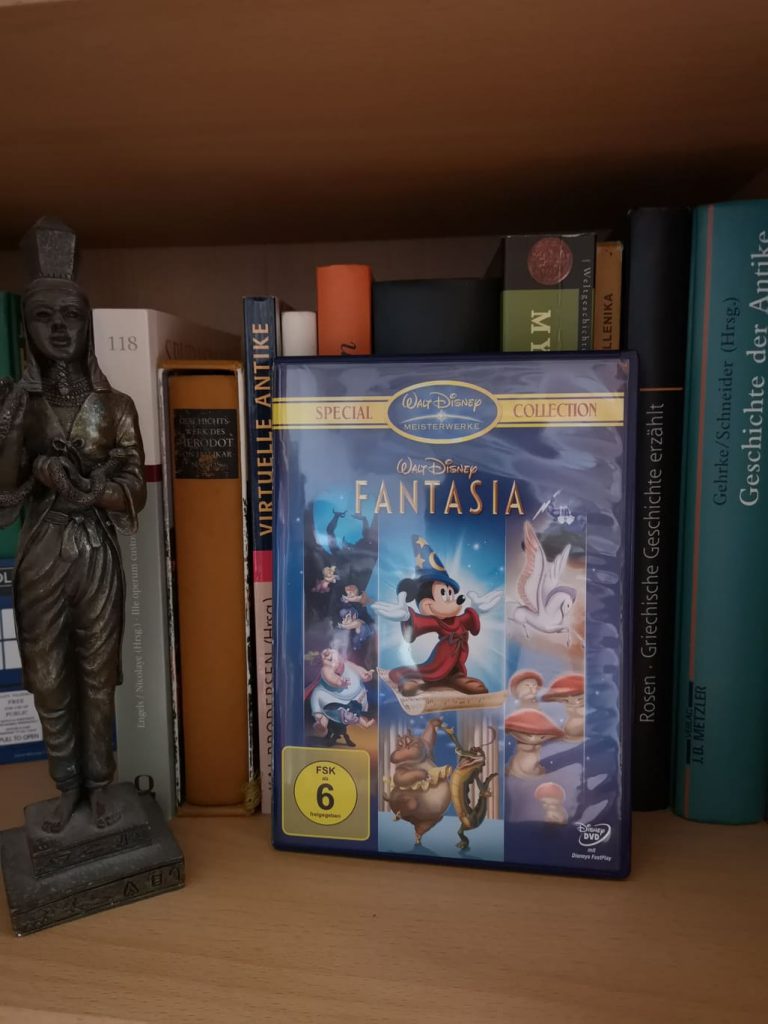 Disney's Fantasia
The major exception to this was, of course, Fantasia, which was released by Walt Disney Productions in 1940. It was the studio's third feature film and was instantly hailed as a masterpiece because of its technical achievement in meshing music with image and its creative innovation in both style and format. All of these elements are on display in the Pastoral Symphony segment, with its detailed depictions of cupids, fauns, centaurs and its representation of the gods Bacchus and Zeus (who appears more like the Judaeo-Christian god, seeking to punish the Centaurs and Bacchus for their orgiastic revelry – something the ancient Zeus probably never would have done, given that Bacchus was his son!).
Artistic experimentation in the 1960s and 1970s
The shift in thematic interest toward the mythological that we see in films produced in the late 1960s and early 1970s was the product of two related causes, and Fantasia is central to both of them. First, the social movements of this era (Free Love, New Communalism, Women's Liberation, etc.) were accompanied by experimentation in many different artistic genres, and animation was no exception. To offer just two well-known examples, this was the era when the Beatles' produced their acclaimed psychedelic musical feature Yellow Submarine (1968) and when the surreal French allegorical sci-fi feature Fantastic Planet (1973) premiered and won a Grand Prix special jury prize at the Cannes Film Festival. Capitalizing on this experimental turn, Fantasia also returned to theaters in 1970 and was promoted with a psychedelic-styled advertising campaign (psychedelic-styled advertising campaign). It was popular through the mid-70s among teenagers and college students who reportedly appreciated it as a mind-altering experience (presumably helped along by the consumption of illicit substances).
The popularity of the fantasy genre
This experimental impulse in art was closely tied to a second source of influence: the popularity of the fantasy genre in literature, which was ushered in by the publication in paperback of Tolkien's Lord of the Rings in 1965 in the United States (the trilogy was originally published in 1954-1956). This paperback edition sold millions of copies and led publishers to hunt for similar works. Other famous fantasy novels soon followed and the genre's popularity was further helped along by its influence on other media, including Progressive Folk music by bands like Led Zeppelin and Incredible String Band who were inspired by Tolkien (a genre now referred to as "Hobbit Rock"), and the invention of the live role player game Dungeons and Dragons in 1974.
The fantasy genre and classical mythology
All of these iterations of fantasy were concerned with freedom, with expanding limits, and with representing the irrational or impossible, and they embraced an ethos of escapism, often into other worlds with features from the mythical past. Not surprisingly, the stories of Greek gods and heroes, with their foregrounding of magic and the supernatural and their focus on eroticism, adventure and transformation, proved a rich and refreshing source for those producing fantasy-themed animation in this period. And this turn towards classical myth was not confined to producers from the US and Europe – there was abundant engagement with this material in Japanese animation (in addition to Takashi's Metamorphoses), as well as in Russian animation of the period (though that is a topic for another post!).
Conclusion: Allegro Non Troppo and Metamorphoses
This returns us to the production of Allegro Non Troppo in 1975 and Metamorphoses in 1978. In drawing upon both Fantasia and Greek mythology as sources of inspiration, these films embraced the mainstream. They re-imagined artistic works that their audiences would have been familiar with: Greek mythology had achieved even greater reach than before with the publication of D'Aulaires' Book of Greek Myths for young readers in 1962, while Disney had constructed a mythological world of its own by this time and Fantasia had become one of its most celebrated classics (despite its unusual non-narrative format). At the same time, by taking an experimental approach to these works and invoking the openness and whimsicality that defined the fantasy genre, both Bozzetto and Takashi's off-beat animation remained on the fringe of popular culture.
Like so many storytellers before them, they sought to make something new out of something old, and to make both Greek myth and Fantasia their own by playing with them, remixing them and pushing them to their limits of coherence. Like a modern-day Aristophanes, Bozzetto took more of a tongue-in-cheek approach to this material, whereas Takashi followed more firmly in Ovid's rock-star footsteps. And while neither Allegro Non Troppo nor Metamorphoses were anywhere near as successful as the originals they were based on, they are still unique documents of a moment when the world of ancient Greek myth became an object of fantasy and fascination in modern animation.